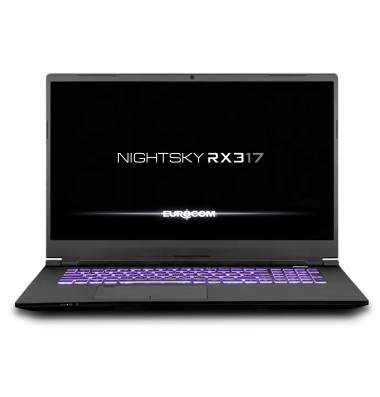 17.3in FHD sRGB 100% LCD panel 144Hz

"RX317: Your dream of a thin & light 17" superlaptop has come true" - Derrick
As an exceptionally portable, slim and refined gaming laptop, the EUROCOM Nightsky RX317 is an impressive on-the-go performance superlaptop.

A perfect balance of high-end components of the latest generation, a wide selection of external ports / interfaces and outstanding mobility define the DNA of this versatile multi-talent.

A high-quality aluminium chassis in a classic design gives the notebook a serious appearance, excellent quality and durability.

The Nightsky RX317 is powered by the high performance yet low power (45W) Intel's 11th generation processor i7 11800H with 8cores/16threads and 24MB cache onboard. It is supercharged by NVIDIA GeForce RTX 3070 with 8GB of DDR6 that provides excellent gaming and GPU acceleration performance.

Up to 16TB of high performance storage is available via two M.2 NVMe slots. Total of 64GB of DDR4-3200 memory is supported via two RAM sockets.

A large battery, long runtimes and a weight of just 2.3 kg complete the mobility-focused Nightsky RX317.