Mining and Quarrying
Calculate complex geometric models with PhotoScan software running on Eurocom hardware; get the accurate DEMs for volume calculation and process them on your Mobile Supercomputer on the ground. Or process them in the air in-flight during flybys for instant results on tracking, soil erosion and glacier studies.
A Mobile Supercomputer is an indespensible part of GIS workflows and UAV systems.
Surveying and Mapping
PhotoScan is used for aerial triangulation, dense point cloud and orthomosaic generation - combined with Eurocom Mobile Supercomputers it is the perfect toolset for on-site and off-site processing.
PhotoScan running on Mobile Supercomputer is capable of dense point cloud generation and classification for further high-resolution orthomosaics, exceptionally detailed DSMs/DTMs, and polygonal models of large scale objects.
Agriculture and Environmental Management
Customizable vegetation index calculation, panchromatic, multispectral and thermal imagery support anywhere in the word from diverse sources by integrating a Mobile Supercomputer into your workflow.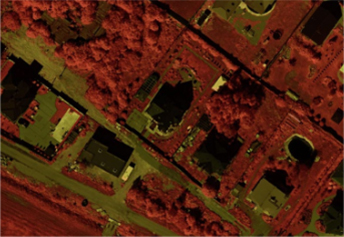 Render multispectral orthomosaics with the fastest mobile hardware available.