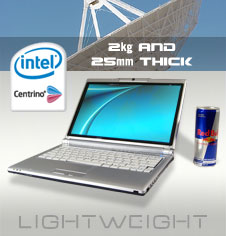 12-inch; Widescreen; WXGA 1280-by-800 pixels; high-brightness Active Matrix Display



Thin & Light; internal DVD Burner; under 2kg (4.4lbs), 24.5mm (1-inch) thin


Attractive look; stylish and elegant design


Rotating built-in 1.3Megapixels Webcam


Internal DVD-Burner for CD and DVD burning or movie watching on-the-go


Long Battery Life; up to 4-hours with optional hi-capacity battery


Loaded with great features i.e. built-in Webcam, Wireless LAN, Bluetooth, FireWire, just to name few


Excellent connectivity via multiple I/O ports i.e. Serial; Parallel; 3x USB 2.0; CRT; FireWire; S-Video out, etc


Fully configurable and customizable to your specific needs and/or wants

and more....