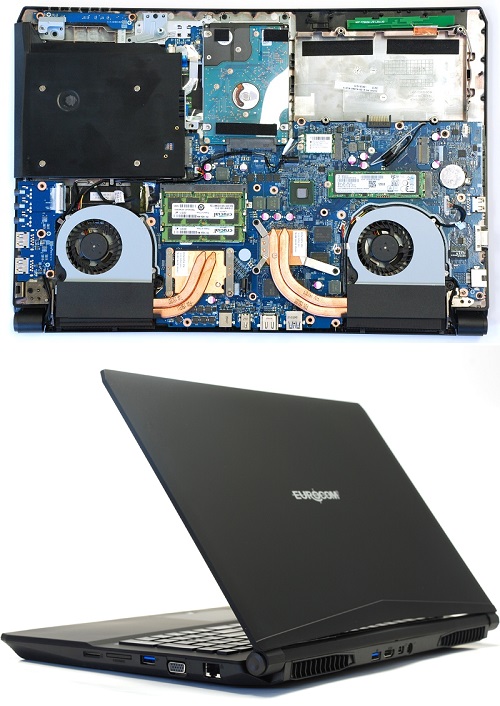 Jul 23, 2015

Eurocom sets new standards for user upgrades in Shark 4 ultraportable, lightweight notebook – Freedom and Capability

Contact:
Braden Taylor
613-656-7961
btaylor@eurocom.com

The EUROCOM Shark 4 is setting new user upgradeability standards. Upgradeability is a core tenet of all Eurocom systems; the Shark 4 is no different with upgradeable memory, storage, display, wireless card and keyboard.

"For users to upgrade their own EUROCOM Shark 4 all they need is to simply pop off the bottom with a few quick screws to access to the entire computer from memory to storage, wireless cards and M.2 4G/LTE modules and to remove and replace the keyboard, even they display panel is easily upgradeable. We believe our customers should be in control of their laptop. It is a Personal Computer (PC) after all." Mark Bialic, Eurocom President.

Memory
The EUROCOM Shark 4 supports two upgradeable memory modules for up to 16 GB of DDR3-1600 memory. The two SODIMM are easily accessible and upgradeable. Memory is scalable, from 2 GB up to 16 GB.

Storage
The EUROCOM Shark 4 can support three storage devices, including an M.2 SSD SATA PCIe Gen2 x2/x4, one 9.5 mm HDD/SSD SATA and another 7mm storage drive through a storage drive bracket installed in the place of the optical drive, for up to 2.512 TB of storage. All three storage drives are easily accessible and upgradeable for users to continually customize their system or if, unfortunately, a storage drive fails, to replace it.

Optical Drive
The EUROCOM Shark 4 is one of the few new laptops with an optical drive – we recognized this need for many customers so we listened by offering the Shark 4 with an upgradeable optical drive that can be a DVD drive, Blu-Ray drive or an additional storage drive bay.

Communication
The Shark 4 is prewired for an upgradeable 4G LTE or UMTS/HSPA+ M.2 3042 card module support, through an M.2 slot, so users can easily add an M.2 internet module with a SIM card to have a reliable internet connection on the go.

The EUROOCM Shark 4 supports WLAN Combo M.2 2230 Card with PCIe and USB interface cards, which is easily upgradeable while also being very powerful.

Keyboard
The EUROCOM Shark 4 comes with a high quality white backlit keyboard with three brightness settings that can be easily changed through a keyboard hot key, for easy typing in the dark. X-structure key technology is utilized for a great typing experience.

During the purchase and customization process customers can choose between a variety of keyboard languages including: English USA, English UK, Spanish, French, Italian, Norwegian, Portuguese, Swedish and Swiss German.

Operating System
Users can choose between Windows 7 or 8 and various Linux distributions.

Trusted Platform Module
The EUROCOM Shark 4 comes with a Trusted Platform Module 2.0 for user configurable, rock solid security capability to keep your data safe at your own discretion. A Kensington lock port and fingerprint reader round out the security trifecta.

Display
The EUROCOM Shark4 comes with a choice of two 15.6" full HD 1920x1080 displays, users can choose between matte or glossy.

Processor & Graphics
To keep the EUROCOM Shark 4 sleek, lightweight and fast the system has been fitted with NVIDIA GeForce GTX 960M graphics and Intel Core i7-4720HQ processor. This combination of graphics and processing capability combined with the Shark's upgradeable nature to create quite the impressive laptop that brings together a perfect mix of capability and user freedom.

Eurocom performance experts have benchmarked the Shark 4 to show its power and capability: http://www.eurocom.com/ec/benchmark(90)ec

EUROCOM Shark 4 Specifications:
• Display: 15.6 inch (39.62cm) 1920-by-1080 pixels FHD IPS display; eDP
• Design: Stylish look with rubberized back cover
• Processor: Intel i7-4 720HQ processor; 2.6Hz; 6MB L3 cache; TDP 47W; Intel HD Graphics 4600
• Graphics: NVIDIA® GeForce GTX 960M; 2GB DDR5; on-board; Microsoft Hybrid Graphics (GPU switchable between iGPU and dGPU
• Storage: up to 3 physical drives HDD/SSD; 2x 9.5mm 2.5-inch + 1x M.2 SATA3 / PCIe x2 x
• Optical Drive: DVD-RW, Blu Ray RW or 2nd physical HDD/SSD
• Keyboard: Backlit white-LED full size with numeric keypad
• Dimensions / Weight: 385(W) X 268(D) X 28.5(H)mm; 2.5kg
• Ports: Right side: SIM card slot, Card Reader Slot, USB 3.0, VGA, RJ-45/LAN; Left side: Kensington Lock, 2x USB 3.0, S/PDIF, Microphone, Headphone, ODD; Back side: USB 3.0, HDMI 1.4a, mini DP, DC-in
• Battery: 6-cells 62WH Smart Li-Ion; removable; up to 280 minutes
• Security: Kensington Lock, Fingerprint and TPM 2.0

About Eurocom:
Eurocom is a leading developer and innovator of long lifespan, fully upgradable notebooks, high performance mobile workstations and mobile servers since 1989. Eurocom has produced many firsts and continues to engineer solutions that inspire and enable individuals and companies to reach great possibilities. For more information on Eurocom please visit www.eurocom.com.